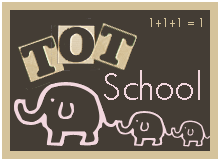 Michaela is currently 30 months
M was extremely interested in helping in the kitchen this week. She helped me add ingredients to various recipes, learned to get her own water from the refrigerator dispenser, and helped make homemade orange juice!
She also learned that she had to be responsible for any messes she made in the process!
When I got out some plastic containers and wooden spoons to keep R busy while I cooked dinner, she wanted to play too! It is so cute to watch them play together!
One day she decided to feed R some food, so she got a few plates from her play kitchen, rifled through our foam letters, and served R this:
Curious if it was intentional, I asked her what letter the word "food" starts with and she said f!
After I put her to bed one day and was cleaning up her toys, I found this.
She had matched the color of fruit or vegetable to the correct color cup all on her own!
Be Flexible
. R had the sniffles this week, which threw off his nap schedule a bit. We've been doing school time during his morning nap, so it was a little difficult figuring out how to work around this problem. One morning I decided not to try to force school to happen and we ended up doing our activity after M woke up from her nap and R went down for his nap. On another morning we went ahead with school and just let R play on the floor near us.
He wanted to be included too!
Not every lesson is going to work out exactly as you planned.
We did a tape resist art activity this week that did not turn out quite the way I wanted it to. The idea was to cover the entire page with paint, markers or crayons so that when you pulled the tape off, the effect was dramatic. I quickly discovered M is more in the "fine scribbling" stage than the "cover the entire paper" stage, so it didn't quite have the desired effect. She still had a good time though, and I realized that I need to give her more opportunities for open ended art.
That's all for this week! To see what other toddlers are learning this week, check out the official
Tot School Website
!