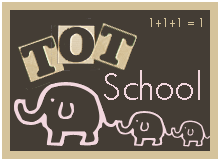 M is 30 months old.
Official Tot School
Apple Printing
Beginning Letter Sound Match
Parking Lot Number Recognition
Dry Pouring
Extra Learning
M got quite a bit of use out of her playdough set this weekend. I brought it out on Friday for a little bit of messy play, and she spent most of the rest of that day, as well as most of Saturday playing with it.
After I realized that she needed much more exposure to beginning letter sounds, we started using
Starfall
this week. Unlike some of the other toddler sites that Michaela likes, she can't navigate through the pages on her own so her daddy or I have to help out. It was good though because I was able to assess which letters she was having problems with so that we can focus more on those ones.
We took a field trip this week! We went to the local botanic gardens with some good friends of ours and spent the morning letting the kids run around and explore.
Be patient.
It was really hard for me this week to see that M wasn't doing well with beginning letter sounds. She basically taught herself her ABC's and she was doing so well, I thought for sure it would just click with her. I had to keep reminding myself not to force the issue and to let learning happen on it's own. We'll be working alot with exposure to letter sounds this week, but I have to remember to do it in a fun, encouraging way.
That's all for this week! To see what other toddlers are learning this week, check out the official
Tot School Website
!