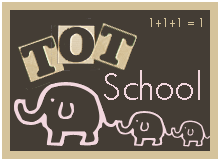 R is 21 months old
We've had a couple of super crazy weeks around here, so we didn't do as much school as I would have liked, but we managed to squeeze in a few transportation themed activities throughout the past 2 weeks.
Just for Fun
R had a great time playing with all his cars.
Playing with a car ramp toy that we have.
Driving his cars on a painter's tape "road"
I didn't manage to get a picture, but he also played "train" and "airplane" alot using our toddler chairs to make little rows of seats. If there's one thing he loves, it's dragging those chairs all over the place!
Tot Trays
Putting Transportation stickers on a piece of paper
Someone asked me if he is able to pick the stickers off the paper himself. Nope! He is perfectly content with me taking them off and handing them to him, then he sticks them on the paper. M was the same way for a while so I'm not too worried. Also, to be fair, it's hard for ME to take the stickers off the page! I guess maybe it would help if I didn't buy dollar store stickers! :)
Matching colored cars to paint chips
This was his first matching activity, and really his first color activity and I was surprised at how well he did! He is so proud of himself, look at him clapping!
Playing with transportation puzzles.
These puzzles are a bit advanced for him, but I had them out for his sister so he played with them a bit too. He had a great time chucking the pieces all over the room though!
Sensory
R had a blast making tire tracks with one of his cars in a tray of rice.
Learn from my mistakes! If you have a toddler who loves making messes, do this outside! Let's just say rice is suprisingly messy and gets everywhere!
Life
R is finally making progress with his words! In the past two weeks he has added about 20 words to his vocabulary and I am just amazed! I think part of it is that we had a VERY lazy and TV filled summer (unfortunately). Now that we are doing activities, reading together, and trying to keep the TV off, it has made a HUGE difference.
We had tons of fun with animals this week. Daddy found a tiny frog and a praying mantis to show the kids, and we had some cows walking around outside our house. (We are not too far from a ranch). We also visited the zoo with some friends.
Teeny tiny frog from our front yard
Cows in the ditch outside our home
Praying mantis
Watching the seals and sea lions at the zoo
Don't forget to check out the transportation themed
books that we read this week
. That's all for this week! To see what other toddlers are learning this week, check out the official
Tot School Website
!