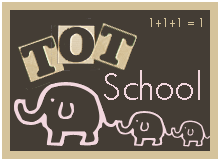 R is 21 months old
Tot Trays
Matching Farm Animal toys to the correct picture in a Farm Book
Collecting Eggs - putting them into a jar with a VERY narrow opening
Art
Covering the Piggy in Mud (brownish fingerpaint)
Branding the Cow (stamping the cow with an "R" stamp)
Activities
Making Butter! (Shaking Heavy Whipping Cream in a Baby Jar)
Our Homemade Butter!
Enjoying it on a Tortilla! Yum!
Field Trip
We went to the NM State Fair for our field trip this week. R had so much fun looking at all the different farm animals. We also got to see a live cow milking and sheep shearing, and there was an adorable kids area where the kids were able to pretend to be farmers. R gathered eggs, harvested crops, milked a pretend cow and more! We also found an awesome "sandbox" of corn kernels which he could have easily stayed at all day! It was the perfect field trip for our Farm Unit!
Books
That's all for this week! To see what other toddlers are learning this week, check out the official
Tot School Website
!