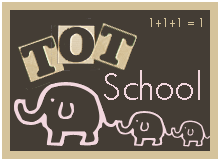 R is 21 months old
The kids both have an obsession with dinosaurs (as do most kids I think!) so we indulged that this week.
Tot Trays
Washing Plastic Dinosaurs
Matching items to fossils made in playdough
Art
Paint w/ Q tip (a book I found for $1 at Michael's)
I'll call this art instead of a real big mess! I was reading to M in the other room and had forgotten to put her printables and marker away! Oops!
He managed to cover both of his arms! Look at that innocent face!
Just for Fun
Dino Nuggets for dinner one day!
We visited the Natural History Museum for a field trip.
Tot School Website
!