M is 3 2/3 years old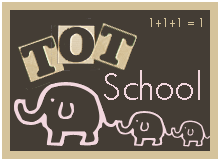 R is 23 months old
I'll be continuing with our new format - comparing the Tot School & Preschool Corner activities so that you can see how I adapt them so that my kids can work on them together.
Printables
I was lucky enough to find another pocket of time this week where M woke up from her nap before R to do some of our printables. We usually do them at the kitchen table but she chose to do them hanging out on our living room floor instead. We didn't get to finish all our printables before brother woke up, but since she works on similar things each week, I'm not going to stress about it too much.
Montessori Style Trays
Pumpkin Transferring
R put orange pom poms in a pumpkin ice tray (great for 1:1 correspondence)
M used chopsticks to transfer tiny pumpkin erasers to an ice tray with many tiny holes
Pumpkin Pouring
M poured water into a pumpkin ice tray.
R poured pumpkin erasers back and forth between two small containters.
(He LOVED this activity and kept going until he finally could pour without spilling!)
Matching
R matched pumpkins that had different patterns (cut from scrapbook paper)
M matched pumpkin faces with different expressions and we talked about feelings
Pumpkin Lacing Cards
R isn't able to do these very well, but he still likes to be included!
Art
Pumpkin Stamping
(Using the top of a cut off pumpkin)
Painting Pumpkins
We don't carve pumpkins, I'm just to afraid of the potential injuries!
After we dismantled the pumpkins above, we bought these small ones to paint.
Activities
I made a Sensory Bin out of the pulp and seeds from a pumpkin. Well, actually, I roasted the seeds and pumpkin right away when we cut into it for the pumpkin stamping art above, so the seeds and pulp are from a butternut squash that I used for dinner, but close enough!
R played with it awhile, but M flat out refused to touch it!
I made this Jack o Lantern felt game with a few scraps of felt. It took me maybe about 10 minutes and that was with me stopping frequently while I chatted with a friend!
Felt Mr. Pumpkin Head
The kids loved changing out the eyes, noses and mouths.
Field Trips
We are lucky enough to live in an area that has TONS of great fall activities. We chose this year to go to a pumpkin patch that we had never been to before, but is run through the same organization that allows M to go horseback riding for free, provided she does chores around the ranch. The pumpkin patch was free too, and absolutely amazing!
Happily riding a horse
M navigated the entire hay maze by herself - on one try!
I didn't want to cook
they were decorating pumpkin shaped cookies for their activity. The kids were SO happy to be getting some sweets!
Books
Pintrest
Are you on
Pintrest
? I had SO many more ideas than what we actually got to this week, so check out my
Pumpkin Theme
board if you are looking for more ideas!
That's all for this week! To see what other toddlers and preschoolers are learning this week, check out the official
Preschool Corner
website and
Tot School Website
!