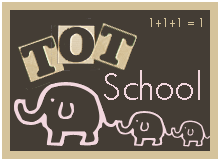 R is 22 months old
This week one of the great fall events in our area was in town, the
Albuquerque International Balloon Fiesta
. This is an event that brings 700+ hot air balloons together and literally thousands of visitors to our little city. We are so lucky to have it, and so this week I decided to teach a Hot Air Balloon theme. A few of our activities were more "regular balloon" than "hot air balloon" but materials for this theme are pretty scarce!
Tot Trays
Lacing a Balloon Lacing Card
Sensory Balloons -
I filled some balloons up with various materials
(rice, beans, sugar, coffee grounds, nuts)
and he enjoyed feeling them all.
R also practiced naming shapes using the shape balloons from the
preschool printables
I made for his sister.
Art
We used inflated balloons to paint a printed picture of a hot air balloon.
Just for Fun
The kids watched the hot air balloons take to the skies almost every morning via one of our local channels coverage. There were also a couple of days where the balloons flew right over our house!
Field Trip
We went last Saturday to one of the Balloon Glows - a nighttime event at which you get to see all the balloons light up together as they stay stationary on the ground. There was a cool fireworks show afterwards as well.
I also tried taking the kids to a morning mass ascenscion, but unfortunately it was a rainy day and the launch was cancelled. We had tickets to a Teacher Appreciation event in the nearby Balloon Museum though, so we enjoyed checking out the museum and doing some of the activities they had set out for kids.
Books & Movies
Age appropriate books about hot air balloons (or balloons in general!) were a bit hard to find, but this is what I managed to rustle up from the library. A few were a little too long and had to be edited, but he still enjoyed the pictures! We also watched Up!, which was the perfect movie for this theme.
That's all for this week! To see what other toddlers are learning this week, check out the official
Tot School Website
!