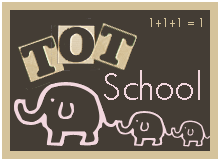 Michaela is currently 29 months.
Our first week of Tot School went great! Michaela's TV watching dropped drastically this week, which is something I was hoping our learning time together would help with. When I say it's time for "school" she gets super excited!
Extra Learning
Michaela had a great time reading her stack of books from the library this week. Once she gets going she can sit for a good 30-40 minutes looking through the books in detail. And if she manages to get one of us to read to her? Forget it, we'll be there forever!
After fingerpainting on Friday, she was in an artsy mood and asked to use her window markers. If you don't have some of these, get them! M thinks its so awesome that she's allowed to draw on windows and mirrors with them, and I love that they wipe off so easily (even on other surfaces!).
With this being our first week, I'm still feeling my way through this teaching thing. A few lessons I learned this week:
Have everything 100% ready ahead of time. This seems pretty obvious in hindsight, but it wasn't something I realized until after we had already had a major meltdown because M wanted to be unbuckled from her highchair after breakfast, and I didn't want her running around getting into stuff until it was all set up.
Have more than one activity ready. M's attention span is just to short to spend a good 30 minutes on any activity. If I can plan 2 or 3 activities I think that will help keep her attention longer and keep her away from that darned TV in the living room.
School on the weekend is impossible.
I was hoping to do a lesson on the weekend also, but with daddy being home our schedule is just too messed up. I might try squeezing in an Exercise & Religion lesson on the weekdays after her regular activities are finished.
That's all for this week! To see what other toddlers are learning this week, check out the official
Tot School Website
!