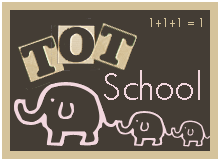 R is 21 months old
We started school up again this week, and we have officially moved M (3.5) to purely preschool while R (21 months) is our new star of Tot School! We will have a theme each week, but our theme work will also be interspersed with whatever other activities I find that I feel he needs to work on.
Start of Year Assessment
R is starting off a bit behind where M was when she was his age. This is partly because he's a second child and has gotten the short end of the stick as far as my attention goes. Also, he's just a different person than she was. He is still not talking very much. He has a few words, but is mostly content to let his sister talk for him all day. He has a few concepts but still doesn't know colors or shapes very well. These are all things I work with him on throughout this year. I won't be focusing too much on letters or numbers until he gets caught up on vocabulary and basic concepts.
Art and Sensory
I punched holes in a strip of paper and R practiced his fine motor skills in finger painting each hole. Then we added green stems on our little apples. Source:
No Time for Flashcards.
I cut apples in half and R painted with them. I cut little scores in the sides so it was easier for him to hold.
We bought several different types of apples and enjoyed them as a snack.
We played with apple scented play dough. Recipe:
My Montessori Journey
Tot Trays
Pouring apple cheerios. -They mostly ended up in his mouth :)
Putting Styrofoam apples into egg tray using fingers to pick up by the stem.
Placing apple stickers onto a sheet of paper.
That's all for this week! To see what other toddlers are learning this week, check out the official
Tot School Website
!